Since the very beginning, the ultimate vision for Matter Labs has been to incubate, launch, and ultimately decentralize the zkSync protocol and ZK Stack. In another move toward this vision, Matter Labs is stepping back from managing zkSync's rapidly growing ecosystem.
Starting today, users can discover dapps in the zkSync ecosystem through the new zkSync Ecosystem Portal managed by DappRadar, which showcases projects' key metrics, rankings, historical performance, and more for its audience of 750,000+ monthly visitors.
Promoting an equitable ecosystem
Since zkSync Era Mainnet Alpha opened up in March 2023, over 200 projects have permisionlessly launched on the network—from wallets, DeFi services, infrastructure, payment gateways, public goods, NFTs and games, to social and privacy-focused dapps.
Decentralization comes from gradually subtracting Matter Labs from the building of the tech and stewardship of the ecosystem. Adding reputable organizations to help steward ecosystem management is an important step toward increasing the credibly neutral nature of zkSync, in line with the principles of the ZK Credo.
While DappRadar is the first external ecosystem portal for zkSync, we invite and encourage others in the community to create similar tools to explore and analyze dapps on the network.
Increasing visibility for zkSync dapps
Transferring the listing process for dapps to DappRadar is a further step toward decentralizing key components of the zkSync ecosystem, but it's far from the only advantage.
With DappRadar's monthly audience of three-quarter of a million users, dapps now have a massive new platform for enhanced discoverability. Through listing on the site and appearing in DappRadar's regular, industry-recognized reports, projects can attract attention from the wider community, as well as media outlets including Bloomberg and Forbes.
DappRadar showcases dapps' key activity metrics such as the number of wallets performing an on-chain transaction with a dapp, transaction volumes, and the inflow value of funds to a dapp's smart contract, as well as leading analysis of the sector.
For users and developers alike, DappRadar's reputation for listings and analysis creates new opportunities to engage with the zkSync ecosystem and make informed decisions.
Join zkSync's new ecosystem portal
Developers can take advantage of DappRadar's platform as a central hub to boost their project's visibility by submitting an application through the site's Developer Dashboard.
If your project isn't yet featured on the new zkSync ecosystem portal, apply in a few quick steps:
Navigate to the Developer Dashboard and register for a DappRadar account

Complete the required information, submit the application, and await approval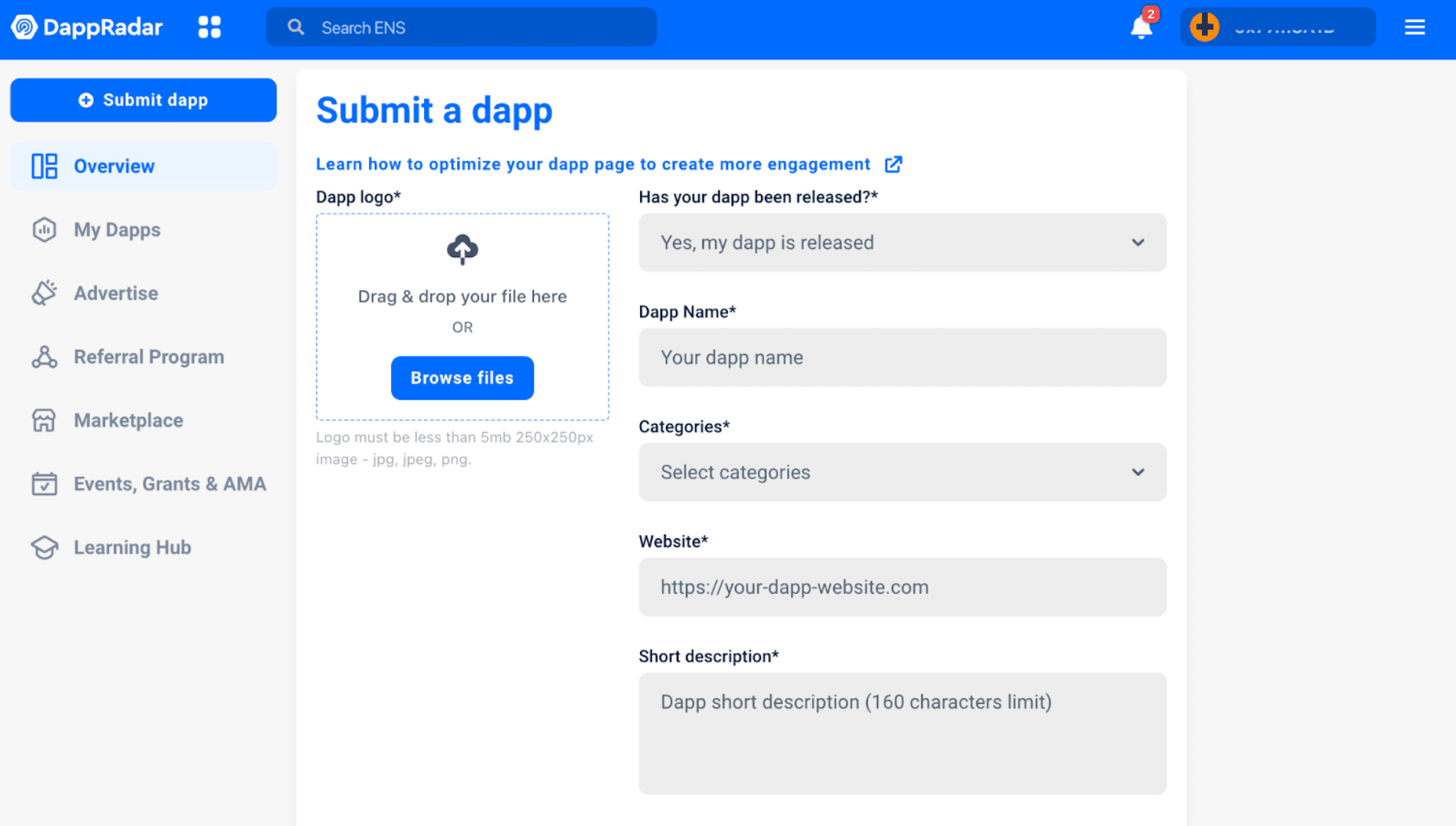 Since the Matter Labs team has stepped back from listing and featuring network projects, applications now go directly to DappRadar for review and listing.
Decentralization: The future of zkSync
Relinquishing control of the ecosystem is a key step in transitioning ownership to the community, but it's only the beginning. Up next are plans to fully decentralize the protocol's technology, community governance, and all other critical pieces of the network.
With DappRadar's analytics and extensive reach, zkSync projects have a robust platform for gaining visibility and attracting new users—and users have the ability to explore the world of zkSync dapps in a data-driven way. Because at the end of the day, it's not only about relinquishing control; it's about empowering the community with ownership and knowledge.